About Dr. Chous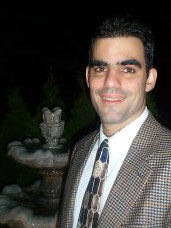 Dr. Paul Chous
Dr. Paul Chous received his undergraduate education at Brown University and the University of California at Irvine, where he was elected to Phi Beta Kappa in 1985. He received his Masters Degree in 1986 and his Doctorate of Optometry in 1991, both with highest honors from the University of California at Berkeley. Dr. Chous was selected as the Outstanding Graduating Optometrist in 1991. He has practiced in Renton, Kent, Auburn and Tacoma, Washington for the last 15 years, emphasizing diabetic eye disease and diabetes education. Dr. Chous has been a Type 1 diabetic since 1968. He lives in Maple Valley, Washington with his wife and two sons.
Dr. Chous serves as a consultant to dLife - Your Diabetes Life, Children With Diabetes, the Diabetes Exercise & Sports Association, and the American Diabetes Association, which honored him with its Distinguished Public Service Award in 1998. He is an Adjunct Faculty member at NOVA Southeastern University in Ft. Lauderdale, Florida. Dr. Chous has given numerous invited talks about diabetes and the eye to both patients and other health care professionals, a process which led him to write a unique and extremely important book aimed at diabetic patients, their families and friends: Diabetic Eye Disease: Lessons From A Diabetic Eye Doctor - How To Avoid Blindness and Get Great Eye Care (Fairwood Press).
Dr. Chous' Speaking Engagements:
California Optometric Association, Monterey Symposium
Marriott Hotel ~ Monterey, California
November 16-18, 2007
Philadelphia County Optometric Society
Pennsylvania College of Optometry ~ Philadephia, PA
March 9, 2008
Utah Optometric Association Annual Convention
Canyon Springs Resolt ~ Park City, Utah
June 1, 2008
International Vision EXPO West
Sands Expo & Convention Center ~ Las Vegas, NV
October 5, 2008
Great Western Council of Optometry
Portland, Oregon
October 16-19, 2008

Look for Dr. Chous's new monthly web column at dLife.com and his upcoming feature articles in Diabetes Self-Management and Review of Optometry, this Fall. See many of his previously written articles at diabetesincontrol.com.

---
Copyright 2006 by DiabeticEyes.com ~ All Rights Reserved